The WMRAC host a series of Doghouse Owners' Club events throughout the motor racing season.
Events are often held in association with our Partners and range from select Member only events to larger Charity fundraising occasions that are open to members and friends.
Our aim is to provide a social network and a series of fun and engaging events, that meet the interest of our members and support great causes.
2021 Upcoming Events;
Northern Lunch – Friday 1st October 2021 – Rossington Hall, Doncaster
Christmas Lunch – Saturday 4th December 2021 – Esseborne Manor, North Wessex Downs
60th Anniversary Celebrations – Saturday 5th February 2022 – SAVE THE DATE, more details shortly
Please contact us for further details.
We also remain socially connected through our online community and social media channels.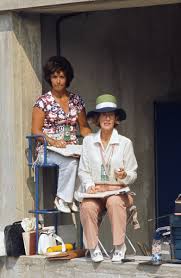 The Doghouse Owners' Club is the familiar name of the Women's Motor Racing Associates Club, and the brand under which we market our events and charity fundraising.
The name was coined during a conversation between Bette Hill and Bette Brabham, when Sir Jack Brabham was, quite literally, "in the Doghouse" for once again getting up from dinner to huddle in a corner talking shop (motor racing) with his fellow competitors.
"As Betty Brabham was sitting on her own a couple of girls walked over to join her she said "Jack was in the Doghouse" – and that did it!". Bette Hill, Other Side of the Hill: Life with Graham Hill
It is also thought that the doghouse image, and our logo, has a strong similarity to the shelters used in the 60s for timekeeping – a role undertaken regularly by wives of Grand Prix drivers.